Image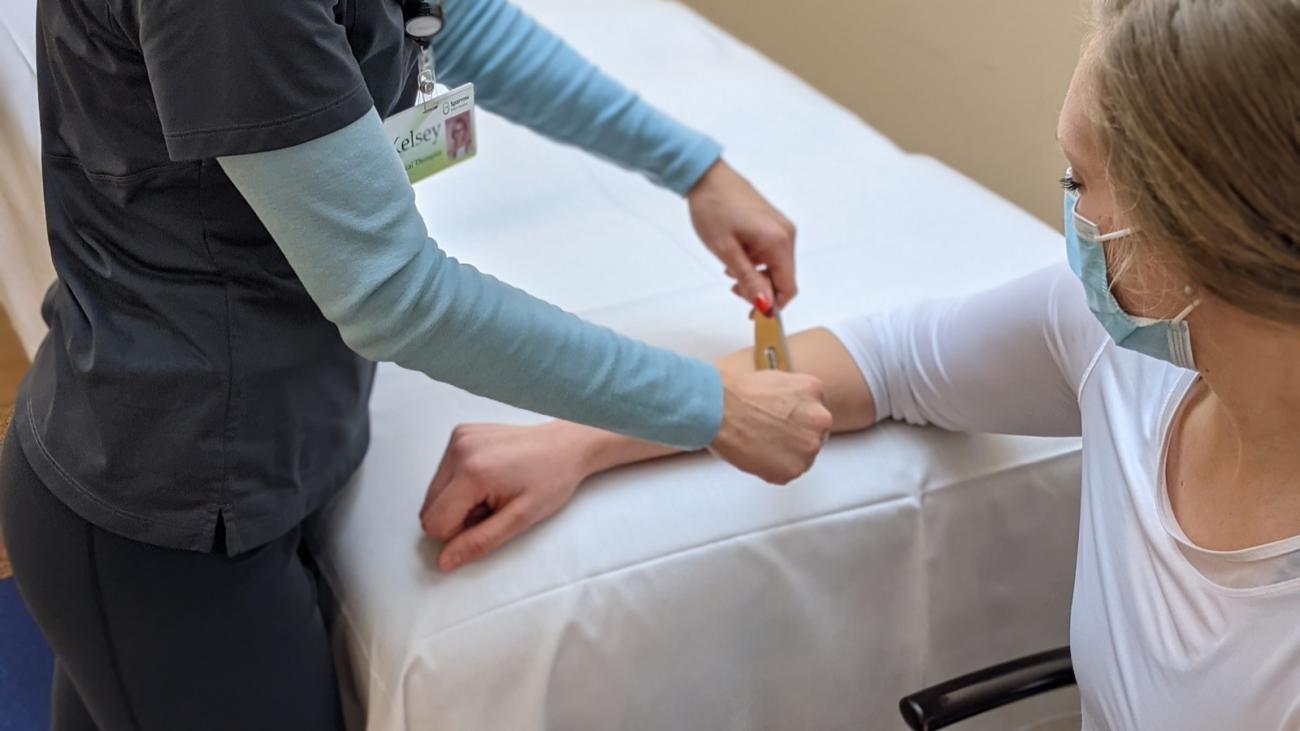 Wednesday, February 24, 2021
CHARLOTTE, MI – Sparrow Eaton Hospital's AL!VE health park is now offering a deep-tissue massage to help get the kinks out of athletes, fitness enthusiasts, or other coping with everyday pain.
The Graston technique utilizes six different stainless steel instruments to assist in providing a deep-tissue massage to work the affected soft tissue. These instruments are used in both treatment and as a diagnostic tool to identify areas that might be inhibiting mobility and function. The Graston technique is conducted at EMPOWER, home to rehabilitation services at AL!VE, 800 W. Lawrence Ave.
"The purpose of the treatment is really to help break up scar tissue in order to eliminate pain and restore mobility," says Joshua Schnell, certified Physical Therapist at AL!VE. "We see an array of patients in Graston; a lot of athletes or fitness enthusiasts suffering from injury or over-activity while others are simply coping with improper ergonomics in their day-to-day."
Typically, Graston patients will receive treatments 1-2 times per week and achieve positive results by the third or fourth treatment. The Graston technique has been clinically proven to achieve faster and better outcomes for patients with: tendinitis of a particular muscle, tennis elbow, trigger finger, plantar fasciitis, rotator cuff injury, back pain, neck pain, fibromyalgia, and more.
"All of our clinicians at AL!VE have been trained and certified to administer Graston," said Kimberly Dickinson, Director of AL!VE Clinical Services. "This often translates to faster scheduling and, ultimately, faster treatment, for the patient."
Graston is offered as an out-of-pocket service for anyone in the community. Members of MOVE (the fitness center at AL!VE) received a discount. Patients must receive an evaluation for physical or occupational therapy in order to receive this service as part of treatment.
EMPOWER at AL!VE is known for high satisfaction ratings and has been recognized as a national leader for therapeutic outcomes, according to Focus on Therapeutic Outcomes (FOTO) patient surveys provided to every patient. Such high recognition is, in part, attributed to utilizing Graston as part of its services.
If you or someone you know may benefit from Graston, please call 517.541.5800 (select option 2, then option 4) for more information on the service or any clinical services at AL!VE.