Dave Thrun, 64, and his wife Terri, 62, actually started working towards their fitness goals a few months before AL!VE, the experience-based, destination health park in Charlotte, Mich., opened in 2011.  Once they enjoyed their first few experiences, they were quick to become regulars.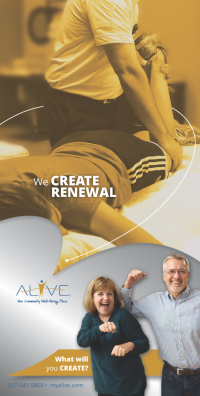 "We used to attend group exercise classes at another facility," Dave said. "But at AL!VE, it's convenient to have access to more equipment, more services in one place."
The couple frequently visit after work to take group cycling classes as part of their regular exercise routine. Every so often, they enjoy a smoothie from NOURISH, and Dave has taken advantage of several other services, including massage. Terri regularly joins Zumba and Z-boxing classes as well.
But in January, after Dave underwent surgery for a torn rotator cuff, he had another reason to visit AL!VE.
"Six weeks after surgery, my doctor prescribed physical therapy sessions," he said.
After discussing physical therapist options with his doctor at Michigan State University Sports Medicine, Dave scheduled sessions at EMPOWER. The professionally trained physical therapists at EMPOWER meet with their patients one-on-one to provide Hayes Green Beach (HGB) rehabilitation services using state-of-the-art equipment at AL!VE.
"The physical therapist I had is very hands-on. He focused on stretching and working the muscles," said Dave. "He didn't just give me exercises to do at home."
Therapists at EMPOWER work one-on-one with each patient to develop a unique and customized treatment plan that takes advantage of the programs and services available at the facility. They thoroughly evaluate each patient's medical history and provide an in-depth exam prior to developing a treatment program.
"I had a really good experience with my therapist and I liked their approach a lot. I felt like I was getting the attention and care that I paid for," Dave said.
Throughout his treatment, in addition to the sessions at EMPOWER, Dave did cardio workouts on his own in MOVE.
"Having all of these services and capabilities in one spot was really convenient for me," said Dave.
And most importantly, the treatment worked.